HAUS SALON GOES TO THAILAND
Thursday, April 27, 2017
DAY THREE OF TRAINING
Today the HAUS team had their third of four days of classes with hairdressers in the Umpiem Mai refugee camp.
Below, HAUS Salon co-founder Charlie Brackney Love leads the third day of class with hairstylists in the Umpiem Mai refugee camp in Thailand, along with Mary, Sarah and Lindsey from HAUS Salon North Loop, and Natalie from HAUS Salon in South Minneapolis. We believe the photos tell the story.
TEACHING HAIR COLOR
Today Lindsey and Sarah had a chance to teach hair color to the eager stylist students. To illustrate color theory when we speak different languages can be a challenge, so we lined up people from darkest hair shade to lightest to illustrate Levels 1 through 10 in our hair color theory workshop. And it worked! Lindsey taught balayage and Sarah taught tinting in the class and everyone enjoyed it.
One snafu...Lindsey needed hair bleach to teach balayage on her hair model the way she really wanted to, but we didn't have any in the entire camp. One of our favorite people, the American Refugee Committee GBV coordinator, Dena, contacted a hairstylist in the camp who had just gotten a shipment of bleach in earlier today! Lindsey was able to color her model because of the resourcefulness and kindness of Dena. Thank you!
TEACHING MEN'S HAIRCUTS
It's time to learn about men's haircuts! Natalie and Sarah led the class. One men's stylist is opening a barbershop and calling it Freestyle Barber Shop. He even made his own business cards. And we loved the shirt..."Men of quality respect women's equality."
These sweet kids who have been watching us every day as we teach our workshops, took a special liking to Lindsey. They brought her greenery and flowers, one by one, to make a beautiful bouquet. They would bring her a flower then run back to get another until her hands were full.
SOCIAL MEDIA CLASS
Charlie and team taught the importance of highlighting your work on social media to attract clients to your salon. The group had a lot of fun taking models outdoors to shoot photos of the cut and hair color in the bright sun with the gorgeous natural backdrop.
TEACHING UPDOS AND STYLING
A SALON IN UMPIEM MAI
We visited Ma Cho Aye in her salon in Umpiem Mai. She has two daughters. One is still little, but her young teenage daughter is learning to do hair alongside her mother. Ma Cho Aye and her husband own a small retail shop on the other side of the salon and the whole family lives above the salon. They have owned it for 5 years.
Charlie enjoyed an amazing scalp and shoulder massage during the visit.
A FEW MORE GREAT PHOTOS FROM TODAY...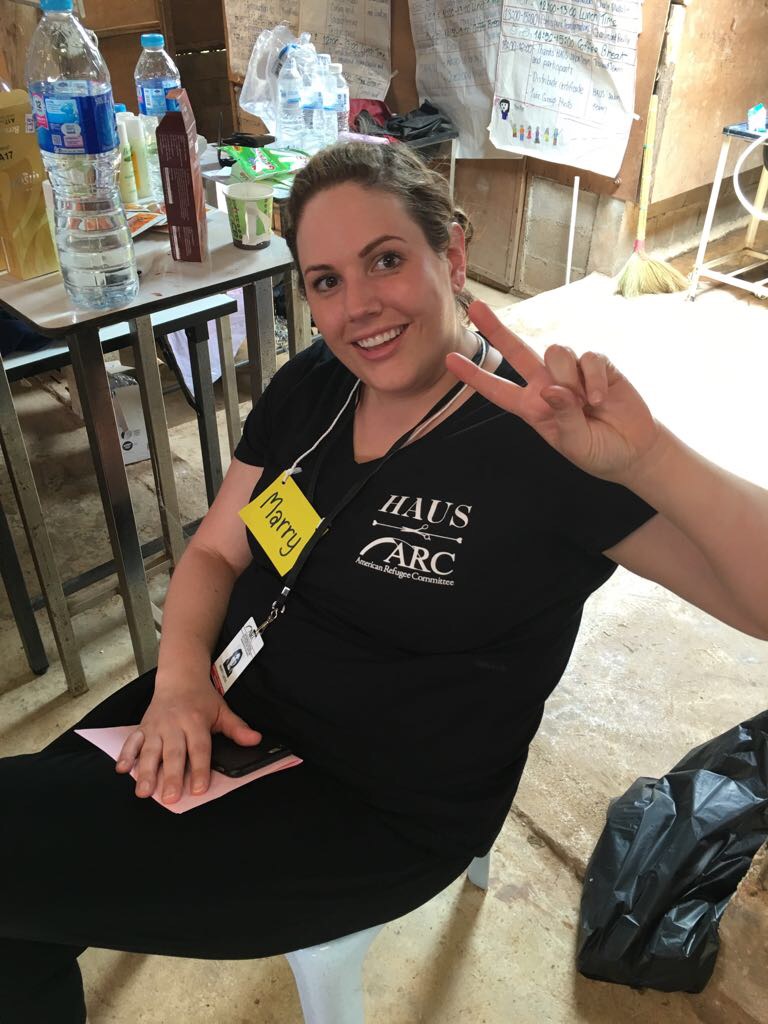 See everything we did during our 4-day workshop in UMPIEM MAI Refugee Camp in Thailand in April 2017